Medals
Crufts Qualifier Medals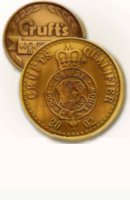 Commemorate your achievement in qualifying for Crufts with this Official Crufts Qualifier Medal. These high quality, double sided medals have an antique bronze finish. The Qualifier Medal is available from 2001 to the present year.

The medals incorporate the Crufts Logo and have been cast with a 2 dimensional front face and a 3 dimensional reverse. Minor blemishes, variations in colour and surface finish are part of this hand-crafted process and make each medal unique. The medal can be individually engraved with your dog's name and comes in its own deluxe presentation box with the Crufts logo printed in gold inside the lid

Pricing
A personally engraved Crufts Qualifier Medal costs £31.50 (includes postage and packaging) Total £31.50.
The Medal is also available without engraving at a cost of £23.50 (includes postage and packaging) Total:£23.50.

Non UK-address add £5 per medal- Total £36.50 engraved & £28.50 without engraving

If you wish to order one of these unique momentos, please email us at - info@enterprizes.co.uk or visit the order form page.
Crufts Millennium Medal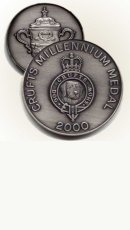 If you're a fan of the Crufts Dog Show, or perhaps simply a collector of medals, then this is the gift for you. The Millennium Medal has been produced as an exclusive collectors item that is surely a must! A brilliant design with instant appeal. This product which is minted in Birmingham, the home of Crufts Dog Show, seals the association between the medal and the event. A must for every exhibitor, household, dog lover and collector.
This unique and very stylish medal is in Antique Silver - 50mm in diameter, 4½ mm thick and weighs 74 grams. The reverse side of this medal is 'The Best in Show Trophy' The hallmark is your guarantee of the quality of precious metal. Hallmarking in Britain has a long history and is probably the oldest form of consumer protection in the country. The Millennium Hallmark is a special mark applied to precious metal by the UK Assay Offices during 1999 and 2000. Don't miss out on your opportunity to obtain your own piece of Crufts history!
Each Medal is supplied with a certificate of authenticity.
Pricing
Crufts Millennium Medal is available for a limited time only, at a special price of just £95. To order, please visit the order form page